Rukmini Maitra is an Indian actress and model who is 31 years old. She is a well-known name in the Indian film industry, having established a good reputation for herself over the course of the last few years. A look
It wasn't until 2017 that Maitra made her debut in films, with the film Chaamp, which was her first film since establishing herself as a fashion icon.
In the year 2021, she made her Bollywood debut with the film Sanak, in which she starred opposite Vidyut Jammwal.
Quick facts about Rukmini Maitra 
Real Name: Rukmini Maitra 
Age: 31 as on 2022
Date of birth: 27 June 1991
Profession: actress and model  
Height: 177 cm
Religions: Hinduism
Zodiac sign: cancer
Birth place: Kolkata,a, wesBengal,l, India
Home town: Mumbai India
Nationality: India 
Maternal status: unmarried  
Boyfriend: Dev Adhikari
Family status and education
Father: Late Soumyendra Nath Maitra
Mother: Madhumita Maitra  
Brother: Rahul Maitra
Sister: None
Education: MBA in Communication Management
Schooling: Rukmini Maitra has started her schooling at the Carmel convent school in Kolkata where she will be studying
Highre Education: Rukmini Maitra switched schools in order to pursue higher studies at Loreto College in Kolkata, as well as the IIM in Calicut, Kerala. She holds a Master's Degree in Communication Management.
Rukmini Maitra best Outfits
The general notion is that it has been noticed that rukimi is always wears the sari in most of the time, and she wears lehengas for casual occasions. Sometimes she will wear another ethnic outfit too for a formal occasion, but most of the time she wears the traditional sari.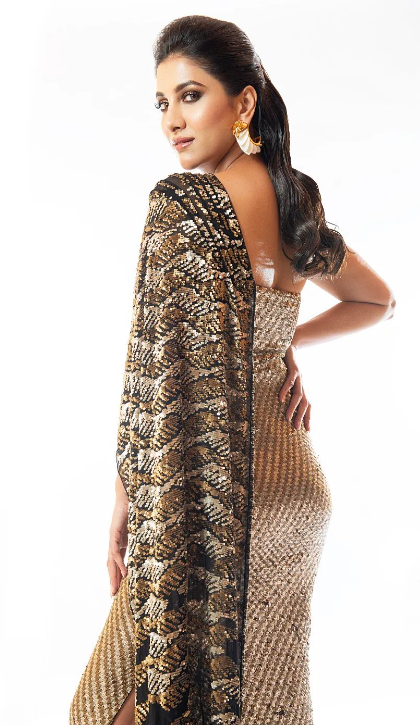 Featuring Rukmini Maitra in a glitter gold sari with a backless design, she looks absolutely stunning in this outfit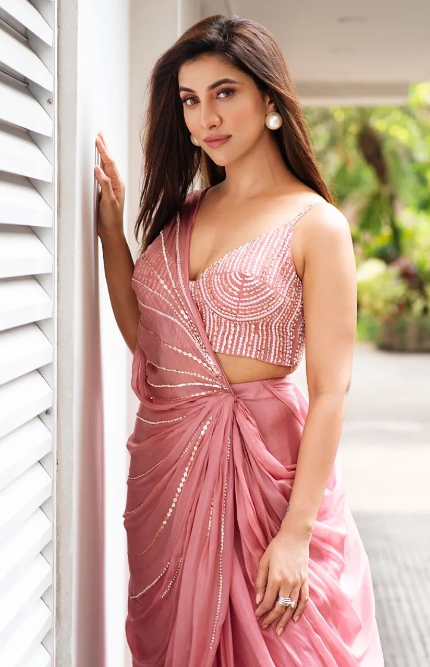 Stunning pink gorgoussari looked worn by Rukmini Maitra for her upcoming shoot in her acting career
Rukmini Maitra wore a yellow printed sari for her photo shoot, and during the photo shoot, the sari was a perfect fit for her image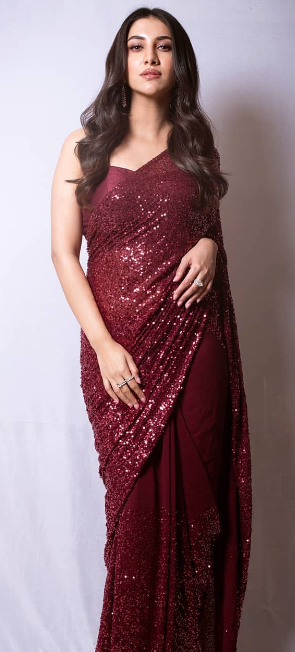 Rukmini Maitra wears a stunning purple glitter sari in this outfit she looks amazing and she looks absolutely beautiful in a ethnic sari dress.
Rukmini Maitra is standing in front of a red carpit, wearing a golden nest sari with an embroidered full sleeve blouse.
Despite the fact that Rukmini Maitra wears a dark multicolor sari, it is clear from her appearance that she is dressed as a royal lady. I am sure that this sari is no exception to that rule.
During the walk of her photoshoot, Rukmini is wearing a purple plan sari as she looks forward to the audience and looks into the camera.
Rukmini Maitra is wearing a dark green sari with a floral print and she has a royal look in this outfit of full sleeve blows and elegant sari
The beautiful Rukmini Maitra is dressed in a white lehenga with stone and mirror embroidery, which gives her an elegant look that adds a touch of elegance.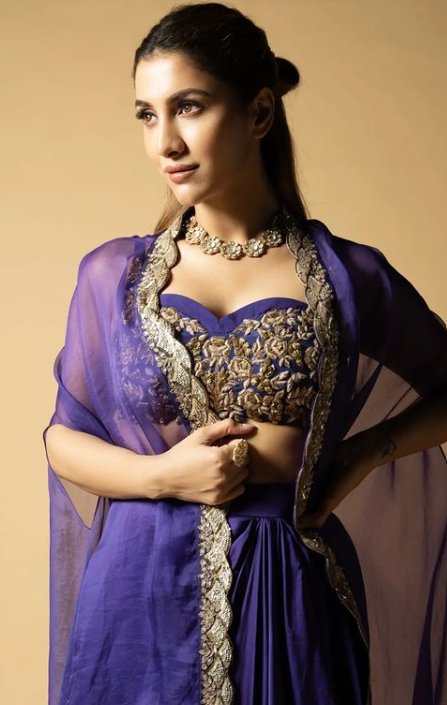 In the picture above, Rukmini is wearing a blue lehenga with golden embroidery on the front of the lehenga and border of shawal that she is wearing.
In addition to the articles published on K-Celebrity from time to time, there are also articles on Hollywood and Bollowoed celebrities' biographies and outfits posted on the website,
so keep an eye on it as it will keep you informed about the latest news; if you want more information, keep following the website as it will keep you informed about the latest news.
In case there is anything else we can assist you with, please do not hesitate to send us an email
Check Out Related Articles: